<!php /* w-hidden-medium w-hidden-small w-hidden-tiny */ ?>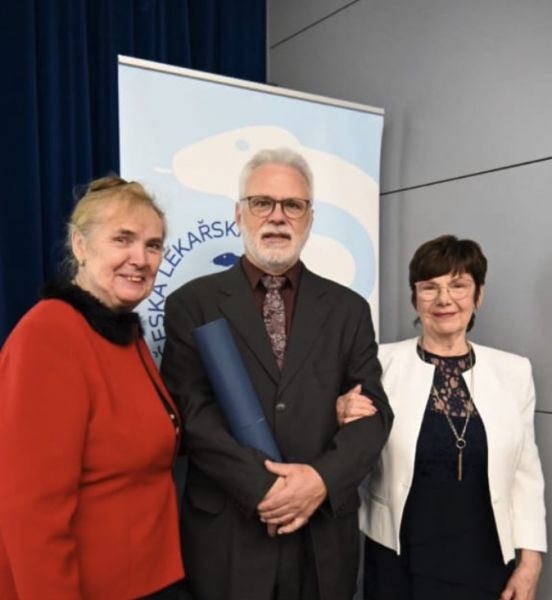 Breaking news from the Czech Society of Myoskele-tal Medicine ČLS JEP:
On April 19, 2023 Jana JANDOVÁ, MD obtained the Golden medal, the highest appreciation of the Czech Medical Associating of Jan Evangelista Purkyně.
Assoc. Prof. Vlasta TOŠNEROVÁ, MD, PhD obtained the 2nd Honor medal.
Jan VACEK, MD, PhD ob-tained the Honor member-ship.
The awards were conferred by Prof. Vladimir PALIČKA, MD, DrSc, HCD, Vice President of the Czech Medical Association of Jan Evangelista Purkyně on the occasion of the 20th Janda's day in memoriam hold by the Czech Society of Myoskeletal Medicine in Prague.


About FIMM
FIMM is an International Medical Federation comprised of 25 individual national societies of similar philosophical beliefs and practices. FIMM is a non-profit organization. Through scientific and educational channels, together with evidence-based research, FIMM aims to create consistently high standards in the practice of Manual/Musculoskeletal Medicine world-wide.
For a large group of patients with musculoskeletal disorders, the healthcare systems of many countries do not deliver an adequate service either in a timely fashion or at all. This unmet need, in many countries, leads to unnecessarily prolonged suffering and disability, together with economic consequences due lo loss of productivity and drains on welfare, where it is available, as well as inappropriate medical costs.

Identifying this unmet need has led FIMM to devise a training program in order to produce a medical specialist capable and competent to satisfy the requirements of this large patient group, in a focused, timely, evidence-based and economical manner.
International Course "Manual Medicine for Children" and "Atlas Therapy according to Arlen" 02/2024 - 06/2024
• link and registration
SPRING SEMINARS
MANUAL MEDICINE WORLDWIDE
Go to video archive  • link